Fire Ban has been lifted!


Olallie Lake Scenic Area Camping


For the 2023 season, we will open at least three campgrounds (see below) on or about June 16th!! Effort is being made to open campgrounds after the Lionshead fire, but the severely burned areas will take more time. Trails in the area are open again!!


All campsites are first come first serve: We do not take reservations for camping. Also, we cannot take credit or debit cards for payment at the campgrounds or the resort. Payment is made with cash or check at the campground drop box or to an Olallie Lake Resort employee.


2023 Season Opening and Closing Dates:


Open for camping!!!  Paul Dennis Campground: June 16th to September 24th


Open for camping!!!  Olallie Meadow and Triange Campgrounds: June 16th to September 17th


Camp 10 Campground: Unknown-We hoped to open Camp 10 this summer however over the winter several (20+) large green trees up rooted and fell into the campground. So, they need to be cleared and we need to make sure the other green trees will not fall. It is very sad to see so many of the few green trees left on the ground...


Lower Lake Campground: Unknown-closed all of 2023 


Peninsula Campground: Unknown-closed all of 2023


Horseshoe Campground: Unknown-closed all of 2023


Quiet Time: Most people visit the Olallie Lake Scenic area to get away from noise! Quiet hours in all campgrounds is 10PM to 6AM. If you want to play music or a radio anytime from 6AM to 10PM, please do not play it load enough for others to hear. Report any misconduct to an Olallie Lake staff member. Thank you!


Camping rates for 2023 Season: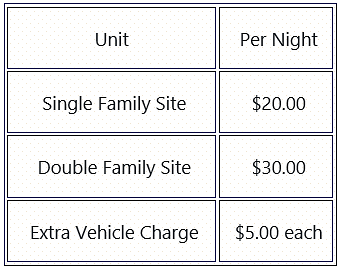 1 Vehicle included with each single site
 2 Vehicles included with each double site


To reserve the Olallie Lake Guard Station Cabin, please visit Reserve America


  "This institution is an equal opportunity service provider and employer, which operates under a special use permit issued by the Mt. Hood National Forest, USDA Forest Service."