To Make Reservations:

PLEASE NOTE: We began taking reservations for the 2023 season on January 1st, 2023 at 12:01 am!! 



Please follow these steps when making a reservation. 



Step #2:
  Check the Availability Calendar for available dates. 
The webpage
Availability Calendar
shows all units that are currently available to rent.


Step #3:
   Review the rate chart below for daily, weekly and holiday rates for cabins.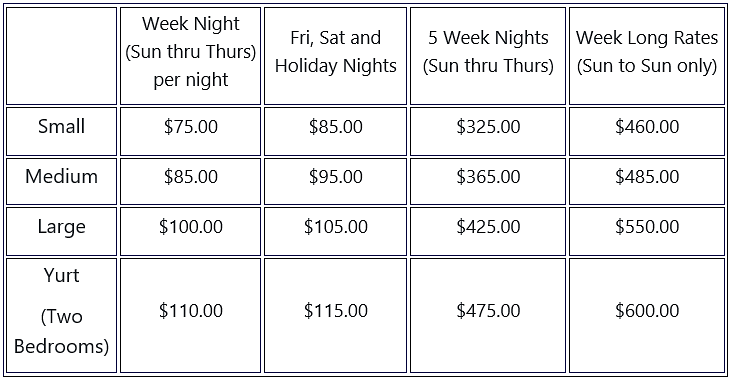 Step #4:  If a cabin is open that you would like to reserve, please email us at olallielakeresort@gmail.com with the following information:
    Your name
    Phone number
    Cabin # and dates you would like to reserve
We will try to reply within 24 hours to confirm your reservation with an email verifying your reservation. The email will include a confirmation with payment options.


Reservation Policies: All cabins and yurts have a two night minimum stay unless only a single night is available. A minimum deposit of 50% of your total reservation is due within two weeks from the date the reservation is made.  Full payment may also be made at this time.  Any remaining balance is due in full at least 21 days prior to your scheduled arrival date.  Reservations without deposits will be cancelled.  Returned checks are subject to a $25.00 service charge. 


Check in is at 3:00pm 
Check out is at 11:00am   


Please check in at the store when you arrive. We accept only cash or checks at the resort, sorry no cards.


Cancellations and Refunds: Cancellations and changes are accepted up to twenty-one days prior to your scheduled arrival date with a $35.00 service fee.  Cancellations and changes without a twentyone (21) day notice forfeit the entire fee.


All refunds will be subject to $35.00 service fee.


Wheel Chair Accessible:   Large Cabins #5 and #6 are wheelchair accessible.


Can I bring my dog?   Forest Service Permit Regulations requires that all dogs be kept on a leash.  Well behaved dogs are allowed, however, if your dog likes to bark or is  threatening - then please board your dog.  Dogs may not be left unattended in cabins for any amount of time.  No exotic pets allowed.  Renters will be responsible to pay for damages made to the cabins and yurts.


Thank you!!!